About this property
Are you tired of seeing your landlord's calls on your phone? Get in here because we have just what you need to become a landlord of your own without hassles. Afia Estate Phase II Iyana Offa Ibadan is the place for you, situated in Lagelu LGA in Oyo State. It is by the road and is surrounded by noteworthy landmarks and it is the cheapest land with C of O you can get anywhere.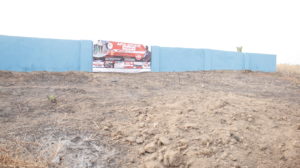 You can get a plot of land here for a promo price of just 500,000 if you are paying at once. We also have flexible payment plans ranging from 650,000 for 6 months to 1,000,000 for a year. You can also key into this scheme with any amount at all. Get instant allocation of your land upon completion of payment, no delays at all.
There is a lot of wisdom in investing in land, it really never flies away. You have full assurance over its security and value appreciation. Act now as the promo ends in 17 days from now (18th February).
If you are thinking real estate, then think Afia!
You can check or reach us through the following media
www.afiahomes.com
@AfiaHomes – Twitter
@Afiahomesofficial – Instagram
Facebook.com/Afia-Homes-and-Properties
Call or Whatsapp – 08135726570 and 07081043423
You can also call 08139293698